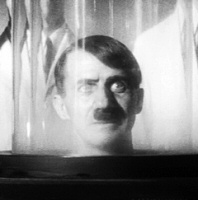 I am now officially happy as hell. Jon and Al Kaplan, the batshit crazy yet brilliant duo behind Silence!, the Silence of the Lambs musical, are doing the songs and book for They Saved Hitler's Brain, being remade as a sci-fi musical comedy. You might have noticed that any crazy musical idea I've mentioned Team Kaplan could handle it–and now my dream is coming true. Frea-king awesome. Source: Variety.

Check this out:

Direct link for the feedreaders.

Don't you want that head to start singing? Christ, I can't wait.
Harry Shearer has been tapped to emcee the BAFTAs. Source: Variety.
The Dark Path Chronicles is another way of showing that vampires are the new zombies. Or something like that. Mary Lambert (Pet Sematary) will scribe and helm the series, which kicks off next month on FearNet.com. I'll just throw this out there: for anybody who wants something to adapt that would make lots of genre fans happy, shall we say, my short story "Necrogarchy" (which appeared in my book Magnificent Desolation) still has the rights for comics, movies or TV available. And for a very reasonable price. You know, just trying to be helpful. Source: Hollywood Reporter.
Dexter has been renewed for seasons four and five for twelve episodes each. The article mentions that CBS running it during the writers strike certainly helped get it in front of people. Source: Variety.
Dirty Dancing: The Classic Story Onstage, i.e. the "play with music" version of the movie, i.e. not enough people actually singing to be a real musical, has opened in Chicago and might be on Broadway around this time next year. Seems to me this show would be like printing money. Eleanor Bergstein scribed it (she did the movie as well) and it has songs from the movie in the show. No firm plans yet but I think it's gonna happen. Source: Variety.
Andy Fickman has made a deal to remake four RKO horror flicks, including I Walked With a Zombie, Bedlam and Five Came Back, which were directed by Val Lewton and The Body Snatcher, which was directed by Robert Wise. There might be some hope for cool redos here, as he apparently got hooked on Universal monsters working as tour guide at the Studios. No word on a timeline yet. Source: Variety.
Love Ranch is the film that Taylor Hackford (Ray) directed about the first legal brothel in Nevada, starring Helen Mirren and Joe Pesci. Hackford's now looking for a distributor, like he did with Ray. "Hackford said that unless a helmer is making superhero films, he's better off leading the sales charge on films he's passionate about." Other films he's got lined up to work on, besides the aforementioned Merchant of Shanghai are the aforementioned biopic on Tennessee Williams and a pic about the conquest of Mexico by Cortez, To The Ends of the Earth. Source: Variety.
Chuck Palahniuk's Haunted has been optioned by New School Media. Source: Variety.
Joe Dante is directing The Hole. It's about "a mother who moves with her teen sons to a rural house where the three are forced to face their fears after discovering a bottomless hole in the basement." Um…their fears…of…falling down a bottomless hole…? If the film is all of five minutes long and they basically say, "You know, we had best never go down in the basement again. Except you, Billy. You're not afraid. You can throw the garbage down there. That'll save us the charges from having the sanitation company come out every Thursday morning." And then they all hug and have a nice happy breakfast together. I would pay $8 for that. Source: Hollywood Reporter.
Knight Rider has gotten picked up for a full season. I haven't watched the show, but based on the people I've talked to who have watched the show, they are all now very, very confused. Source: Variety.
Ron Perlman has joined Nic Cage in the aforementioned Season of the Witch. Also in the cast is Stephen Campbell Moore (Ashes to Ashes). Source: Variety.
Kevin Smith has written a script for a sci-fi father and son comedy set in outer space. No word on a start date or anything else, except he might do it with the Weinsteins. Source: Hollywood Reporter.
13 is the English language remake of 13 Tzameti, helmed and scribed by Gela Babluani, who helmed and scribed the original French film. 50 Cent, Mickey Rourke and Jason Statham are on board. Production starts next month in NYC. I have not seen the original film but I remember when the trailer was released. It looks freaking intense:

Direct link for the feedreaders.