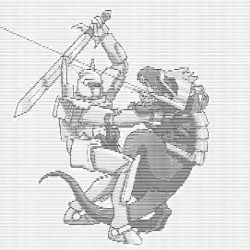 So this one has been up for a few weeks and I had meant to post about it when it first appeared–but even now I feel I must bring this to anyone's attention that missed it, because it's certainly impressed us here. The name of the shirt is AW3SOM3 F1GHT!!1! and, as you might have already registered, it features a knight in armor with sword fighting a dinosaur in armor with a laser mounted on said armor. However, the awesome part of the equation is that the bloody thing is all ASCII art style. And if you don't know what that means, you can either ask your parents or click on the link or, perhaps best option–do both.
Certainly there have been other recent new ones that cranked our tractors, like Arcade Expressionism or the Rox-friendly Space and Time, or even the Dindranest shirt in a while, Bubbles the Snow Leopard.
You can click through any of the links to check them out for yourself, or just go to their front page. Tell them we said hi.