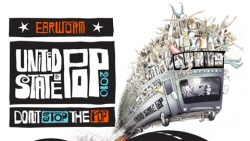 As we careen towards the New Year, there's a number of things to look forward to. This is one of them. DJ Earworm takes the Top 25 songs according to Billboard and mashes them into a single song. The result is something that is greater than the sum of its parts, mostly because this is about the only way some of this stuff is ever going to make it onto my iPod. As the man himself states:
In 2010, pop has gone into serious all-out party mode. In 2009 the music was encouraging us to pick ourselves back up after being knocked down again, and to rock out to some great dance music while your at it. This year's music tells us to keep going now that we're up and having fun.
For more info and to get more of his kickass stuff, check out DJ Earworm's official site.