ADV ANNOUNCES AUGUST 7 RELEASE: AIR GEAR: WINGS REBORN
"Straight-Up Cool." – Anime News Network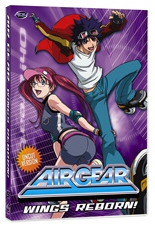 HOUSTON, May 29, 2007 – ADV Films is proud to announce an August 7 release date for the fourth volume of the high-flying shounen adventures of Ikki and the gang in Air Gear!
Based on the hit manga series by Oh! Great (Tenjho Tenge) and produced by Toei Animation (Dragonball Z, Zatch Bell), Air Gear is set in a world with a need for speed. This is the un-edited version that fans have been waiting for, so say good-bye to the crows and get ready for Air Gear to go!
Synopsis: Ikki has formed a team of Storm Riders with the help of some new friends and old allies. With their first victory in the bag, they have begun their journey to the top of the ranks. Unfortunately for Ikki, Rika, eldest of the Sleeping Forest sisters, will do anything to keep the little crow safe and grounded. It's a good thing Ringo is there to teach Ikki a few new tricks to survive the territory and parts wars to come. Will Ikki get his bell rung or will he prove once and for all that nothing is limited for the Sky King? Don't miss all the high-flying, heart-pumping, breast-bouncing action that is Air Gear!