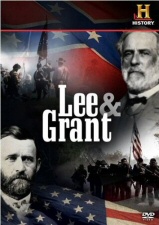 It's Lee & Grant, out from The History Channel on DVD. Here's what they have to say for themselves:
Produced with the cooperation of leading
Civil War
historian Winston Groom, author of
Forrest Gump
, LEE & GRANT is a personal look at two iconic leaders of the Civil War. Surprising details reveal the bold choices and almost godlike power Ulysses S. Grant and Robert E. Lee summoned on decisive battlefields like Vicksburg and Gettysburg that, within days of each other, turned the tide of the war. Originally airing in commemoration of the 150th anniversary of the Civil War, the program features a unique perspective, exploring how these men changed the course of American history.
We've got a copy of the DVD to give away. Want to win it? Splendid. Here's how that happens: you enter using the form below. Remember you can enter once a day. If we draw your name when the contest ends, you snag it! Good luck!
(more…)