It's Weekend Justice: the Internet's #1 audio trainwreck. It's the podcast that gives your kids graphic novels to warp their minds. So this podcast was engineered–some might say over-engineered–by experts to escort you from the work week in the most chaotic manner possible. Please note: this podcast is profane, definitely oversexed and definitely overwrought. It is wrong and unsafe. You have been warned.
[audio:http://www.podtrac.com/pts/redirect.mp3/www.needcoffee.com/podcasts/wjustice070111.mp3]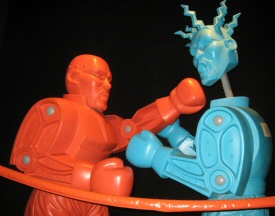 Agenda:
ScottC in drag…yes, again
Heels, sex and confusion
Aaron's idea of steampunk
ScottC, method actor
Accents
Murder in the yard
Goddamn Skrulls
Rock Em Sock Em Robots and sex
Snoopy's family
Karen Gillan, seriously, we do love you, naked or otherwise
Rox and the Disney snuff film
Kids and The Walking Dead
Young Spazhouse!
Werner Herzog