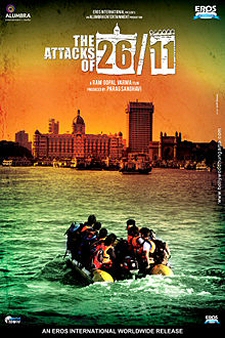 Written by: Ram Gopal Varma & Rommel Rodrigues
Directed by: Ram Gopal Varma
Starring: Nana Patekar, Sanjeev Jaiswal
Ram Gopal Varma is back with his new movie The Attacks of 26/11. After a spate of non-performing movies, he helms the project which deals with the sensitive topic of one of the deadliest terrorist attacks on Indian soil. It happened in Mumbai, leaving over 166 people dead and more than 250 people injured. Given the theme, which is so sensitive, the movie is a huge risk and can result in a massive backlash from the critics and public alike if not presented well. So how does it fair? It does pack a punch, but it had the potential to do much more.
For starters, the movie does not exactly trace the entirety of 26/11's events. It concentrates entirely on the lone inhuman terrorist Kasab, who was captured alive by the Mumbai Police. In the movie, the entire sequence of events that happened through the attack is explained by the Joint Commissioner of Police (Played by Nana Patekar) to a Bench comprising of his seniors. The movie traces the path of the terrorist Kasab from the point he gets onboard a boat en route to India to wreck havoc in Mumbai, to his self realization and his end–hanged as a repenting prisoner disowned by his land (Karachi, Pakistan) and guilty of committing mass-murder.