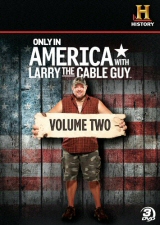 It's the second volume of Only in America With Larry the Cable Guy, hitting DVD from The History Channel. Here's what they have to say for themselves:
This April, HISTORY® gets really personal in Only in America with
Larry the Cable Guy
when Larry dives into another series of offbeat journeys through America, while tackling gar with Louisiana good ole boys, searching for Sarah Palin and peeking into the goings-on behind the TSA counter. In ONLY IN AMERICA WITH LARRY THE CABLE GUY: VOLUME 2, get front row seats as Larry takes a zany spin around the U.S. from sea to shining sea and gets up-close-and-personal with everything from naked cowboys and gator vomit to Evel Knievel and the paranormal. Across 11 new-to-DVD episodes such as "Larry Deep Fries Everything", "Larry Digs for Gold" and Larry in Hillbilly Country", Larry "gits-r-done" while visiting iconic sites, engaging people along the way and exploring some of America's most offbeat characters and historical facts.
We've got a copy of the DVD to give away. Want to win it? Excellent. Here's how that happens: you enter using the form below. Remember you can enter once a day. If we draw your name when the contest ends, you snag it! Good luck!
(more…)