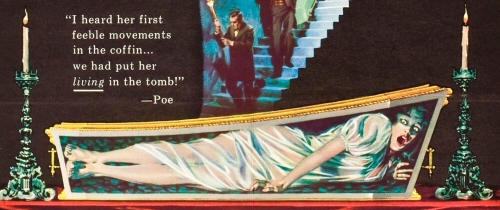 Day 12 has turned into a day for
Poe
, what with last year and
Uncle Bill reading "The Masque of the Red Death"
and then
The Pit and the Pendulum
before that. And since we're already in the neighborhood, it makes sense to go back to the beginning of the trifecta of terror that is
Roger Corman
, Poe and
Vincent Price
. And
Richard Matheson
is here as well, adapting the story for the screen...with some liberties. Like most Corman/Poe "collaborations," the purists will gnaw off their own faces in despair. But if you just enjoy the madness and go with it, all is well.
I mean, come on, they refer to Price as "The Screen's Foremost Delineator of the Draculean." How can you not love that? Check it out:

Direct link for the feedreaders.
That's available on DVD from Amazon.
Previously on this day we also took a look at some haunted Disney and the trailer for I Bury the Living.