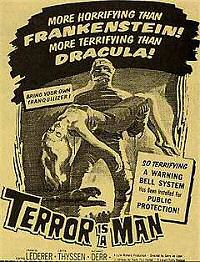 Further proof that you can find freaking anything on the Net, here's a site devoted to nothing but B-movies in which you would spot a creature or robot or robot-creature carrying a woman in its arms.
I picked that poster out of the bunch because I just love the admonition "BRING YOUR OWN TRANQUILIZER!"
I think that should be placed on random posters just for the sheer surreality of it. "Duck Tales: The Movie! BRING YOUR OWN TRANQUILIZER!" See?
Found via We Make Money Not Art.