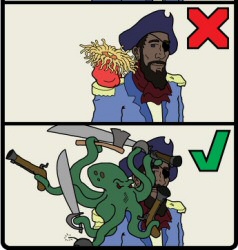 We're constantly in bewilderment as to what to do, how to conduct ourselves. What is the proper musical accompaniment for being a pirate? What are the safe choices for wedding cake toppers? What is the right thing to leave out for Santa Claus?
Be of good cheer, for Comfort Guide is here. With easy to understand guides to everything from restroom etiquette to life as a zombie, they lift the veil of confusion and provide critical information for your day to day lives.
See their full array of guides here. And never be confounded by ninjas in the workplace again.