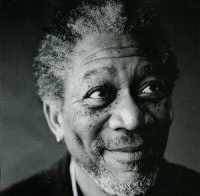 Morgan Freeman's publicist released the following and since I've seen everything from "serious condition" (although broken bones to me is serious enough, no doubt) to a YouTube RIP memorial for the guy by somebody trying to be first to post one, I thought I would share. Bottom line: he's going to be all right.
Regarding Morgan's injuries - "Morgan has a broken arm, elbow and has minor shoulder damage but was in good spirits when I spoke with him a short time ago at the Elvis Presley Memorial Trauma Center at The MED, a Level 1 Trauma Center at the Regional Medical Center at Memphis.
He is having a little bit of surgery this afternoon or tomorrow to help correct the damage. He says he'll be OK and is looking forward to a full recovery."
Folks are welcome to send well wishes - no flowers or gifts - to:
PO Box 16548, Encino, CA 91416 in care of Morgan Freeman
Or they can blog him at: http://www.planitnow.org/morgan/