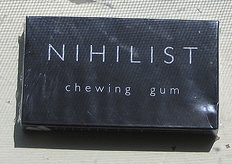 An excellent game of zombie whispers played out on a shirt from Woot! Granted, it's on gray. But one can never have enough shirts having to do with zombies.
And a brilliant NSA parody shirt from the EFF. On one hand, it takes a $65 donation to get it. On the other hand, they are fighting a war to keep from the government of finding a solution to the ongoing problem of you continuing to have any rights online. So. Found via Boing Boing.
Another cool shirt, this time from Threadless: the slightly mental, slightly steampunk "Heaven and Earth." I like it. Just has a great deal of white on it, I must say. But hey, if I'm going to point it out to you with that much white on it, it must be cool. Also: note to t-shirt creators: I know you love your designs, and we think they're cool too, but every shirt doesn't have to have a design on it that's frigging huge, okay? Thanks.