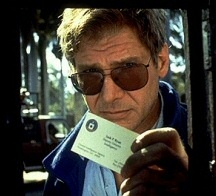 A new Jack Ryan flick? You know it's in development. And the rebirth of Bond and the success of Bourne I'm sure have only made Paramount really want to get off their ass and do a follow-up to Sum of All Fears, the capable re-working of Affleck and Morgan Freeman into the former Harrison Ford part. Hossein Amini (Wings of the Dove) is on tap to scribe the new movie, which you can pretty much just call Jack Ryan Begins. I think you know what I mean. Regardless, don't expect Affleck to return. Apparently Sam Raimi was attached for a while to direct–don't know what the hell they were thinking on that, the only person with a more packed dance card these days is Del Toro. As an aside, apparently Amini is scribing The Subtle Knife at Warner Brothers.

I must say: whoever's going to play the new Ryan, they won't have as good a Pissed Off Face as Harrison Ford. That and while we're waiting, I would be perfectly content with Liev Schrieber in the Without Remorse movie. Just for the record. Source: Hollywood Reporter.
Do you like our Stuff? You can subscribe to just this portion of the site and get the Stuff You Need to Know by using this newsfeed. Thanks for stopping by.