That's right: don't be too proud of this dorktological terror you've constructed. Because it's time for another round of items that are friendly to those of us who find colors to be yesterday's news and agree that black is the new black.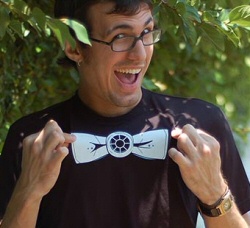 And we kick off today with the Bow-Tie Fighter shirt from Snorg Tees. Because some things are just so geektastic that you have to just step back and marvel at their audacity. This shirt is two of those things. You can find it here.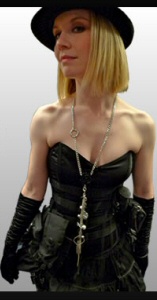 Also in the news is the tactical corset from, naturally, Tactical Corsets. Which is kind of what would happen if Victoria's Secret and Siege entered into a partnership: "Tactical Corsets bring female operators MILSPEC features like MOLLE modular pouch attachment webbing and self-adjustable quick-release buckles in a load-bearing carrier designed to support the female form." In other words, it's for women who want to make it blatantly obvious that you should not screw around with them. After all, is that pouch for lipstick or mace? Or something worse? They're taking special orders now and expect to be filling them soon. Find them here. Found via @Wolven.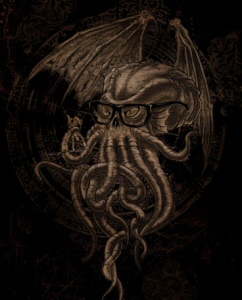 There's always room for Cthulhu. Especially if it's Cthulhu sporting some badass horn-rimmed glasses. You'd think being a Great Old One, Cthulhu would have had Lasik by now. Or at least get contact lenses. I mean seriously. Wouldn't you love to see Cthulhu doing ads for 1-800-CONTACTS? I know I would. But instead, J!nx brings you this shirt, entitled "Sushi." I suppose it will suffice.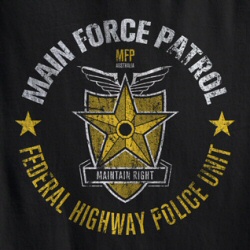 Last Exit to Nowhere is constantly creating new shirts that make us envious. And they have the good taste to put a good number of them on black. So they get the kudos. And especially for one of their more recent creations, a shirt inspired by Mad Max. A nice Main Force Patrol t-shirt to wear when barreling through the desolate wasteland of your choice behind the wheel of a Pursuit Special, no doubt. Find it here. And our Last Exit to Nowhere contest is still rolling here.

And last but not least, some people want to save energy–and whether or not a black-screened search engine helps with that is doubtful–but for me, black search engines mean that I don't get that distressing blast of white light from my monitor when all I want to do is stay down in the relative peace and safety of the Technocave, away from such things. If you too want to go a little easier on the eyes, Mental Floss was kind enough to publish a Top 10 list of places you can find one.
Got something black? Send it to us at widgett at need coffee dot com or Twitter it to us at @needcoffeefeed.