32 Days of Halloween IV, Audio #1: Spirits of the Dead
By Widge - posted 09.30.10 @ 11:59 pm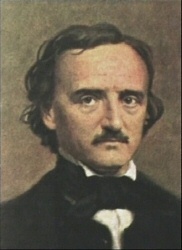 Just like last year, we've still got audio in the mix. Everyday somebody will provide you with some Halloweenish spoken word goodness. And if it's me, it might be some of my own stuff--or it could be a call back like this one. You see, last year we kicked off with
"The Raven."
And there's always room for more Poe, so we go back to his poetry for "Spirits of the Dead."
As last year, if you have anything you'd like to have read, we are taking requests. The parameters are: can't be novel-length, because we're crazy but we're not insane. Also, has to be something "legal," i.e. public domain, creative commons, whatever. Leave a comment, ping us on Twitter @needcoffeefeed or email, whichever.
Find it directly here. Or subscribe to the feed to get all the 32 Days audio. If you're already subscribed to our Needcoffee.com general podcast feed, you'll get these anyway, so not to worry.

Where to Find Stuff
Read More About: