Posted on 10.26.14 by Widge @ 6:00 pm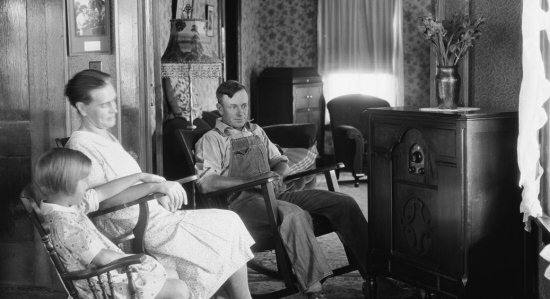 Let's go back to the realm of old-time radio horror for today's entry. Specifically, we're going to go across the pond and check out Appointment With Fear, the British radio series that's been going and coming since 1943. Hosted by The Man in Black (who was most recently portrayed by Mark Gatiss--as though anybody would be surprised about that...), it was your standard hosted dramatized horror play. Alas, only four episodes are to have survived, of which we have one below. The second episode we have for you is from the version called Fear on Four with the man being played by Edward de Souza (Kiss of the Vampire (1963)). And yes, we have another Dahl story for you in the latter episode...but "William and Mary" is just so much horrible fun...Enjoy.
Posted on 10.25.14 by Widge @ 11:00 pm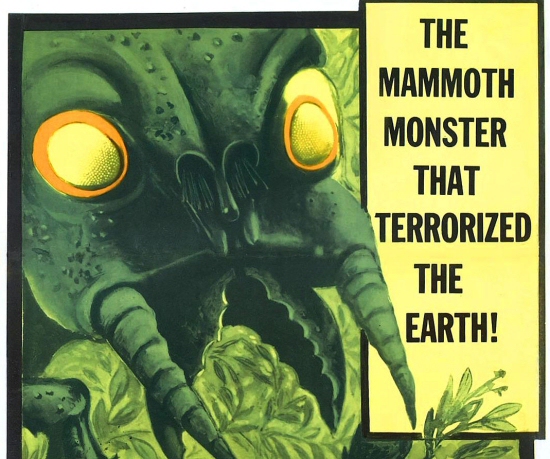 Wasps. They're a nasty piece of work sometimes. Sometimes, they just fly about and are minding their own business. Sometimes, they seem to be very pissed off and want to sting you. And sometimes, they've been shot into space, returned to the planet and crash-landed in Africa, been exposed to a great deal of cosmic radiation and grown to ginormous size. Oh, and then they're pissed off and want to sting your face clean off. That's Monster From Green Hell, the 1957 B-movie giant wasp extravaganza that you had no idea was missing from your life.
Now you might ask: if they were exposed to cosmic radiation, why didn't they get the ability to stretch or turn invisible or something...and why didn't they go fight some crime? And all I can say is: if I had the answer to such deep questions as that, I'm sure I wouldn't be running a pop culture website. Enjoy.
Posted on 10.25.14 by Widge @ 7:32 pm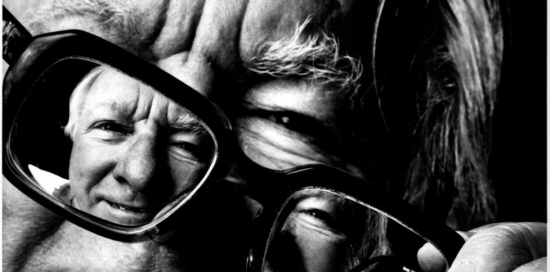 For our first entry of Day 26, let's have some time with your Uncle Ray. Ray Bradbury, of course. The best creative writing teacher I never had.
I realize we've posted "The Veldt" previously, but this is from the radio series Bradbury 13, which I recall as being on BBC Radio...but may have wound up (or originated) elsewhere. The reason we're going back to that story is that it's narrated by Paul Frees, for crying out loud. You can't deny Mr. Frees. Then after that, we go to a fantastic tribute to Mr. B from The Neil, "The Man Who Forgot Ray Bradbury." Enjoy.
Posted on 10.24.14 by Widge @ 11:00 pm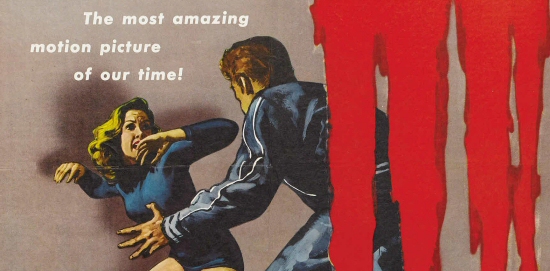 Long before Michael Landon was an angel or a pioneer father he made his feature film debut in 1957, in I Was a Teenage Werewolf. The troubled teen genre meets, well, lycanthropy as a hypnotherapist takes Landon's character back to his primitive nature...and into the realms of horror-ridden teen angst. Which was a new thing. And granted, American International Pictures (the people who would go on to give you stuff like Beach Party) went nuts with it, but for horror movie posterity, it's definitely worth watching.
The film was popular enough that Landon released a single, which we've included below simply because we can. So let's lead off with "Gimme a Little Kiss (Will Ya Huh)."
Posted on 10.24.14 by Widge @ 10:01 am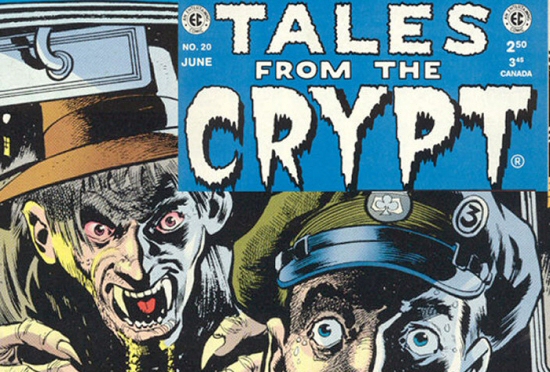 Ah, the EC Comics vein. No pun intended. There's just something so satisfying about the normal plot structure of these stories, in which somebody winds up getting their just desserts. Or even unjust desserts, doesn't much matter. For today's 32 Days of Halloween entry, I've selected a couple of episodes for your dancing and dining pleasure. First up, "The Reluctant Vampire," because anything that has both Malcolm McDowell and George Wendt in the cast is pretty much a shoo-in. Then we go to "Death of Some Salesmen" with another amazing cast: Ed Begley, Jr., Yvonne De Carlo (yes, Lily Munster) and Tim Curry thrice. How could you say no?
NOTE: Remember, this was an HBO series. So these episodes should be considered definitely NSFW. Enjoy.
Posted on 10.23.14 by Widge @ 9:42 pm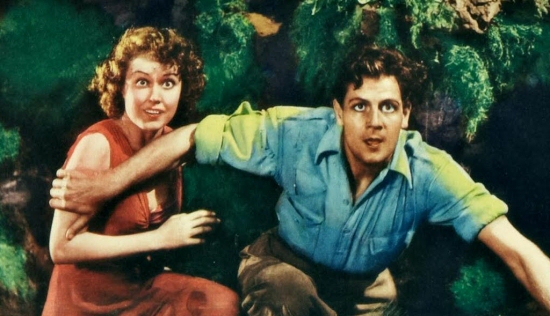 One of the greatest short stories ever written, Richard Connell's The Most Dangerous Game, got the feature film treatment in 1932 with folks who would go on to make King Kong: co-director and co-producer Ernest B. Schoedsack, co-producer Merian C. Cooper and stars Fay Wray and Robert Armstrong. In case you somehow managed to never read a single short story during your entire time at school (and if it was only one and it wasn't this one, it must have been Shirley Jackson's "The Lottery"), a ship goes down and the survivor manages to make it to an island. The island is the home of a Count Zaroff, who is an avid hunter but has gotten bored of hunting animals. He desires a far more entertaining and challenging sport. And so, hijinks ensue. Enjoy.
P.S. The video page on YouTube has students who are watching it instead of reading the short story for class. Poor stupid kids. I hope they flunked spectacularly.
Posted on 10.23.14 by Widge @ 11:32 am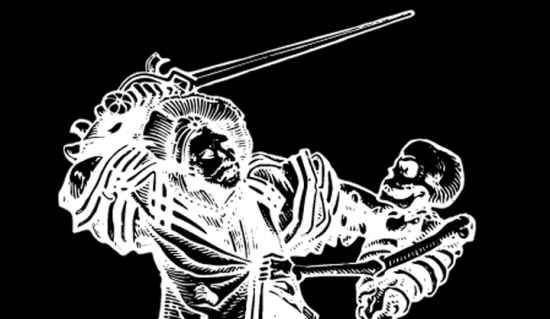 Silent horror shorts day here at 32 Days of Halloween. And we watch these for...well, three reasons. First, because pretty much everything you've watched--from Guardians of the Galaxy to Godzilla--is a direct descendant of this kind of thing right here. Secondly, the stuff they were doing special effects-wise in 1906 is sort of mind-blowing. And thirdly--and to me most importantly--I just said 1906. Go access this post from a phone if you're not already and watch a 108-year-old short film on your phone. You might ask: but if I'm watching this on a nice cozy full-blown computer, why would I want to get out my phone and do that? Because you're living in the future and you can and that is freaking badass that you can.
Let's not even get into how the 108-year-old film will get beamed down to your phone from space. Because our heads might explode.
Anyway, Rox was kind enough to curate these films for you today: The 400 Tricks of the Devil or The Merry Frolics of Satan and also The Black Imp from 1905. See? That one's a year older! Awesome. Enjoy.
Posted on 10.22.14 by Widge @ 9:00 pm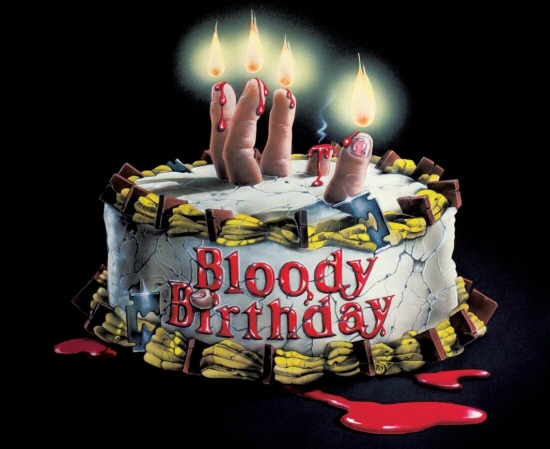 Our 23rd Movie Night of our 32 Days of Halloween festival has usually been reserved for kids who are evil. Well. More evil than normal kids. Because there's just something inherently super-evil about critters that are supposed to be good. What is more creepy, a hyena with a chainsaw or a kitten with a chainsaw? The kitten, of course. Because you expect hyenas to have chainsaws. Granted, I would be sneezing my head off before said kitten got the first bloody swipe in, but still. You take my meaning.
We go to 1981 and Bloody Birthday, where the lesson to be drawn from it is: don't give birth during an eclipse. I guess. It stars Susan Strasberg (daughter of Lee and star of one of my perennial gonzo favorites, The Manitou) and José Ferrer (Stalag 17) as well as having Michael Dudikoff in a smaller role. Enjoy.
Posted on 10.22.14 by Widge @ 10:43 am
We haven't spent a lot of time gathered around the giant radio to listen to some old-time horror. Let's fix that, shall we? There are tons of shows to choose from. Our first stop will be The Hermit's Cave (1930-1944), wherein The Hermit sounds like a close relation to The Crypt Keeper. We'll listen to "Buried Alive." Then we'll switch over to Suspense from 1943 with "The Black Curtain," starring Cary Grant.
Posted on 10.21.14 by Widge @ 7:00 pm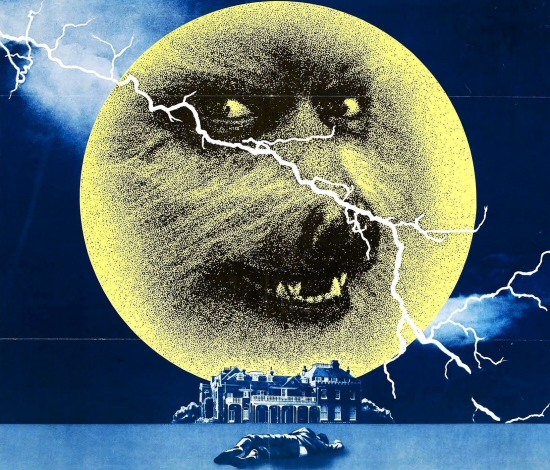 As Day 22 is Peter Cushing Day, that means it's time for the 1974 werewolf film from Amicus: The Beast Must Die. Like a lot of genre films, a very rich individual invites a bunch of people over to his place to hang out...but he has a hidden agenda. The film comes complete with the gimmick of "The Werewolf Break," a pause in which you have a chance to reflect and decide who in the film is the werewolf, since that's the mystery at hand. (Although I think other films might do well with a "Werewolf Break," like Pearl Harbor or Cars 2.) Alongside Cushing, other suspects include Michael Gambon and Charles Gray (Rocky Horror). Good luck in your detective work...