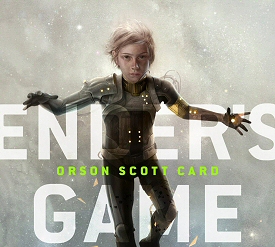 Trying to get you pop culture news at least once a week, because doing it more often than that would be excessive and time consuming for everyone involved. One post catches you up to speed on the important bits and you can then breeze through the rest of your day enlightened. Huzzah.
I'm now willing to admit that Ender's Game is probably happening. As I may have mentioned before, the last time it was supposed to kick off, it was Haley Joel Osment as Ender. Now the previously might-be Harrison Ford is definitely on board to play Hyram Graff. Hailee Steinfeld is also locked to play Petra while Abigail Breslin is on tap to play Valentine. Source: Variety.
The Bugle, the hilarious satirical podcast hosted by John Oliver and Andy Zaltzman that I recently recommended, has gotten evicted by current host The Times Online (I notice the link on their HelloBuglers Twitter page has been redirected to the Times' front page as well). They report that it will have a new home somewhere in 2012, so that's good news out of the ashes and madness.