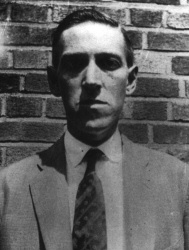 For tonight's round of 32 Days of Halloween audio we're sticking with poetry and having some H.P. Lovecraft, no doubt the first appearance of many that his words will be making. We started off doing audio with Erich Zann and then last year was "Nyarlathotep."
This time it's "Nemesis."
[audio:http://www.podtrac.com/pts/redirect.mp3/www.needcoffee.com/podcasts/nemesis.mp3]
Find it directly here. Or subscribe to the feed to get all the 32 Days audio. If you're already subscribed to our Needcoffee.com general podcast feed, you already get them, so you're good.

Where to Find Stuff