Posted on 03.01.14 by Widge @ 9:54 am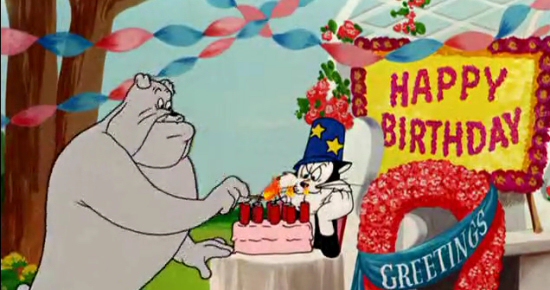 It's Weekend Justice: the Internet's #1 audio trainwreck--the podcast that can't hear you because it's got a bottle of Prosecco in its ear. We said: we can't hear you, because the podcast has a bottle of Prosecco in its ear!
Agenda:
Doc brings the pain
Gaming consoles and home fix-it mayhem
Somebody shoot Jack Frost in the face
Rox, who hasn't killed Widge
Who's going to die? You know, die?
Posted on 02.20.14 by Widge @ 2:03 am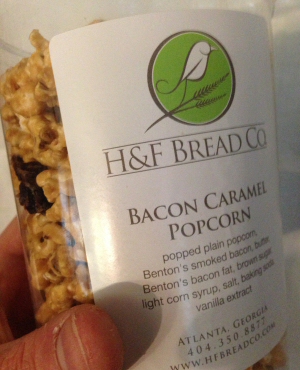 Cosette recently told me about something found on Pinterest: "There two kinds of people in the world. Those who like bacon and those who are wrong." Or something like that. But the sentiment, in my mind, is true. Bacon is awesome.
Another thing that is awesome is caramel popcorn. Going along with the well-known mathematical axiom that awesome plus awesome equals holy crap, we come to H & F Bread Company's Bacon Caramel Popcorn. They're based here in Atlanta and apparently are alchemical wizards.
You have plain popcorn as a base, then add caramel, then add bacon fat and also smoked bacon from Benton's. In fact, here is the ingredients list verbatim: "popped plain popcorn, Benton's smoked bacon, butter, Benton's bacon fat, brown sugar, light corn syrup, salt, baking soda, vanilla extract."
I have no idea who this Benton person is, but his bacon is damn amazing. The caramel popcorn has taken on the smokiness of the bacon to a very mild but effective degree. I say mild, but when first trying it, you might think it's fairly strong instead. But that just means you haven't eaten one of the included bacon bits. And when I say "bacon bits," you might imagine those things you sometime shake onto a salad or baked potato. That would be incorrect. So instead, when I say bacon bits in this context, substitute in your minds the phrase "tiny smoked nuggets of joy."
Posted on 02.17.14 by Widge @ 11:46 am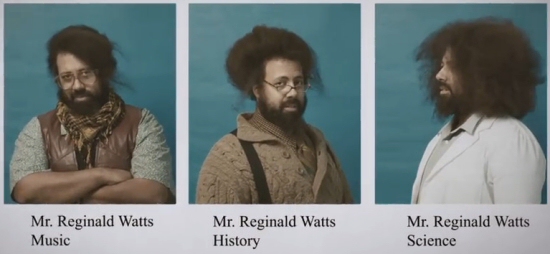 It's been a while since we've done one of these, but...well, this just cries out for it. Reggie Watts is a very disturbed man. But I cannot stop watching his mayhem. First up, the premiere episode of Teach, in which, to some of you, he sounds like he's spouting gibberish. However, if you, like me, attended schools in Alabama...well, let's just say with this video I learned a lot. He also says it with such conviction that even Rox herself would no doubt be impressed.
Afterwards, we have a snippet of the Sky Atlantic show Set List, in which comedians have topics thrown at them and have to improv a bit on the spot. Watts' performance is...nothing short of epic. Enjoy.
Posted on 02.15.14 by Widge @ 4:44 am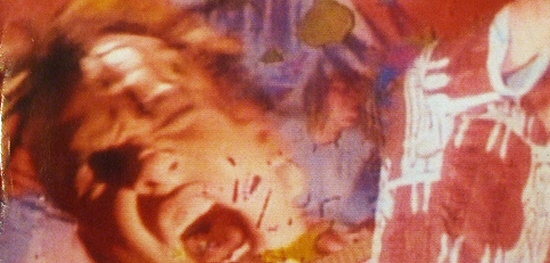 It's Weekend Justice: the Internet's #1 audio trainwreck--the podcast that is stuck outside of our reality trying to talk over another completely different podcast.
Agenda:
Testing for Jon's personality
Revisiting Frozen
Marry, Fuck, Kill
Liming David Cronenberg
Kids and Avenue Q
Posted on 02.14.14 by Widge @ 8:13 am
Sometimes you need a relationship intervention via text. And there's few better people to facilitate this than Lena Dunham (HBO's Girls) and Idris Elba, while on a recent episode of Graham Norton's show from across the pond. I honestly think they need to spin this off into its own show: Graham nabs phones from the audience and a random panel of guests "assists" the phone owner. I would watch the hell out of that. Happy Valentine's Day, you horde of lunatics.
Thanks to Rob for the headsup.
Posted on 02.14.14 by JM Tuffley @ 7:31 am
This podcast generally covers music and other transgressions. This month's episode is manned by Prof. Tuffley with Dr. Rob Levy navigating and Widgett Walls serving as head speedbump.
This episode's central topic is: 2013. What did we learn, if anything at all? We also talk new albums, Coachella, OutKast, the loss of Lou Reed, Phil Everly & others, the Rock and Roll Hall of Fame inductees, plus our usual dipping into litigation hell.
Also, this is very late going up and you can blame Widge. [Editor's note: Widge did actually type that bit. Like last time.]
Special thanks to Hyperbubble for our lead-in music. Show them love and buy their stuff.
[[ More this way... ]]
Posted on 02.08.14 by Widge @ 4:23 am
When Google Glass first appeared, I found myself wondering, "Now what the hell is that for?" This after being convinced by two or three people that it was not, in fact, an attempt at sexy Borg cosplay. But as skeptical as I am of new technology, I have learned the hard way to be skeptical of my own skepticism. I remember resisting getting a cell phone (although admittedly, my main concern was that I was already available enough to the management at my day job, thanks). I also remember a toy company executive saying in the mid-1960s, "I think there is a world market for maybe five Etch-a-Sketches." Or...something along those lines.
Now I can't get through the day without my iPhone...mostly because I have a head like a sieve and it serves as my outsourced long term memory now. But instead of fumbling around in my pocket to grab my phone and responding to a text or checking my calendar...Google wants me to look slightly up to the right and then ask my glasses what's what.
Posted on 02.02.14 by Widge @ 1:53 am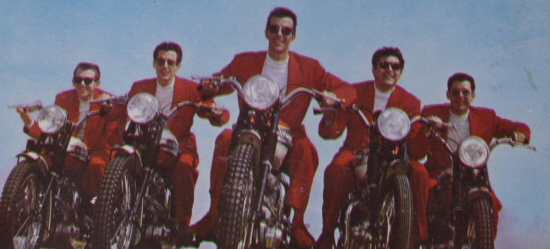 It's Weekend Justice: the Internet's #1 audio trainwreck--the podcast that is not a doctor, doesn't play one on TV and doesn't advocate alcohol...it just prescribes it.
Agenda:
No homework in therapy
Kamchatka: The Truth
Revisiting Dune
Snowpocalypse 2: Snow Harder
Alcohol Safety with Jon
...and Leigh
Posted on 02.01.14 by Rox @ 10:18 pm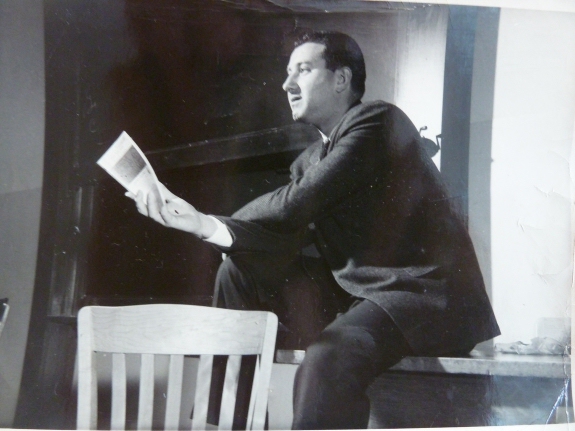 In remembrance of our behind the scene supporter (really, he kept me on top of watching all the shows I reported on and movies--in fact he would ask if I had my recommendations and topics for podcast night), we repost my reading of "Casey at the Bat." He was a major baseball fan and also taught literature and the humanities, so I went to him for help with the poem's cadence and inflections when I recorded this for National Poetry Month. In addition, he knew the importance of Need Coffee and DragonCon to me. He was a veritable Charlie from Charlie's Angels.
Harold Sunshine
February 3, 1935 - October 29, 2013