Posted on 05.22.13 by Widge @ 11:56 pm
Over the course of the action-explodo-thon of Star Trek Into Darkness, there is a shot of Alice Eve in her underwear. I didn't mind it, partly because it was a brief blip in a film that I was enjoying the momentum of, and partly because I own a penis. But apparently, there has been some kerfuffle about this--and in J.J. Abrams' appearance on Conan (shown after the jump), he explains what his thought process was. And, you know, penis or not (though for the record: there is one), I can see where he could have been going for that and it was a beat that just didn't quite work in that way.
But yeah, he would have saved himself a ton of trouble if he had just left the shower scene in. All will be explained:
[[ More this way... ]]
Posted on 05.22.13 by ScottC @ 11:07 pm
Written by Warren Ellis
Performed by Reg E. Cathey
Published by Hachette Audio
NYPD detective John Tallow has just seen his partner of twenty years shot by a crazy naked man with a shotgun. Of course, Tallow responses in kind by shooting the crazy man dead. This would have been the incident where Tallow, burdened with years of the violence and brutality of New York, finally shuts down.
However, the naked madman with a shotgun blew a hole into an apartment. When checking to see if anyone is hurt, Tallow discovers an apartment covered in guns. All sorts of guns from flintlocks to Saturday Night Specials, all arranged like pixels in a digital picture. They seem to convey some sort of meaning or purpose but it may be beyond sanity. Even weirder, when a sampling of the guns is tested, all of them are connected to cold cases of unsolved homicides. In other words, Tallow has just reopened over 400 unsolved murder cases and the department is not happy. His "reward" for this discovery is to investigate who did all this. And why would be nice too. So Tallow has to deal with two rather odd CSUs, a department that wouldn't mind this whole mess sinking into the Hudson, and the killer who is very smart, very talented, and very pissed that someone fucked with his guns.
Posted on 05.20.13 by Widge @ 11:50 pm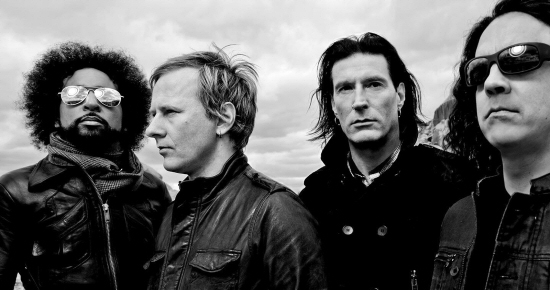 More music picks for your Monday. If you like what you hear, use the links provided to snag it for yourself from Amazon. Doing so through us gives us kickbacks, and those help pay for stuff like more bandwidth. And also so we can buy more music.
Alice in Chains was a band that I enjoyed after picking up Dirt in the wake of digging the absolute shit out of "Would?" from the Singles soundtrack. And then I enjoyed the hell out of it...and to a certain extent everything that came after...especially their "Let's try something slightly different" EPs like Jar of Flies and Sap. And then as they fell apart during and after the loss of vocalist Layne Staley, I sort of lost touch. Seemed like whenever I caught them, there was something about it that just wasn't...them. But now, having heard the new single "Stone" from the upcoming The Devil Put Dinosaurs Here, I feel like I'm getting a suitable successor to Staley and yet the band just isn't Alice in Chains Again. And while trying to find a live performance of "Stone," I stumbled across this: and thus, witness William DuVall nailing the shit out of "Kashmir," back by the rest of AIC and a freaking orchestra, recorded in 2009 (I think).
Posted on 05.20.13 by Widge @ 1:15 pm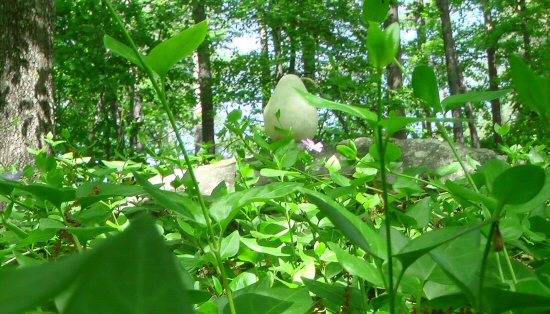 Just a headsup: my short story collection, Something Else: The Complete First Season--previously (and still) available on the Kindle--is now also available as an unabridged audiobook, read by me. My story, "Matches," serves as the audio sample.
It's twenty-four pieces of short fiction and the entire thing clocks in at just under two hours. You can snag the audiobook for just around $6 or grab it free if you sign up for an Audible trial period. Either way, whatever form you try out the book, leave a review on Amazon for it, would you? And help to spread the word. It's greatly appreciated.
Posted on 05.20.13 by Widge @ 7:50 am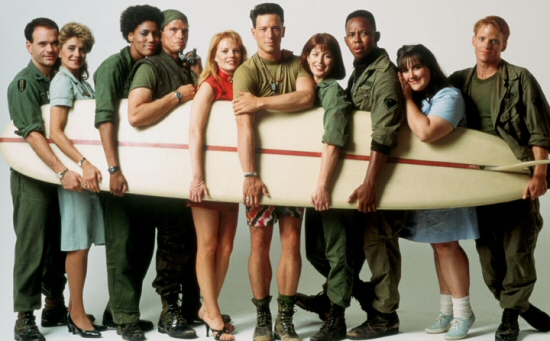 I'm not sure what your relationship to the series China Beach is, but mine's pretty simple: I had never seen it before. Oh, I was aware of it. I even knew Dana Delany had gotten her career started in the show. But it began at the end of my high school days and I had already drifted away from being able to spend lots of time watching television, so I just never had the opportunity to check it out. Thus in my head it was simply "MASH, but in Vietnam and with a focus on nurses."
Cut to today and we've got the whole damn thing having hit from Time-Life on DVD (the same people who hoisted that tremendous Carol Burnett boxed set into the market recently, yes) and it's a lot easier to take in and appreciate the thing when viewed in its entirety. Most impressively, as time went on...well, time went on. Whereas MASH lasted a helluva lot longer than the war that served as its backdrop, China Beach let time pass and its characters go home. Then it followed what happened after they got there, including the role of PTSD for those that did. Hell, it even visited the Vietnam War Memorial. Pretty intense stuff. Being a MASH fan, I can say with some embarrassment that speaking on that fandom...we just got AfterMASH. So.
Posted on 05.17.13 by Widge @ 7:00 pm
It's Weekend Justice: the Internet's #1 audio trainwreck--the podcast that wants Martha Stewart and Snoop Lion to get together and do...whatever. Cook. Fight crime. Smoke weed. Whatever. Just film it.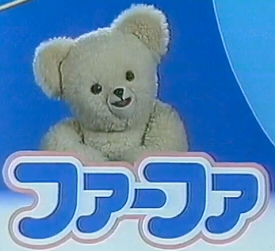 Agenda:
Ed Helms has a hard drive?
Leigh and her dirty mind
It's the time of the non-season
Rox on override
Vague spoilers! For...something
Warehouse 13 praise
Of Hannibal and amnesia
Kim and autographing geekery
Leigh-sized vehicles
Sleeping with Jon
Why Kim hates villagers
How to have an orgy in a video game
How not to treat your carpet
Non-fun with disgusting drinks
Iron Man 3 vs. Great Gatsby (SPOILERS)
What the Ultimate Universe did wrong
How many boobs equal a swear word?
Posted on 05.17.13 by Widge @ 6:13 am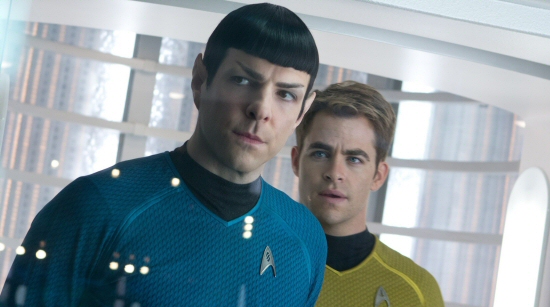 Special thanks to all our supporters! It's Episode #150 for Star Trek Into Darkness, in which our protagonist applauds trailers that obfuscate for the good of mankind, is pleased that the franchise still knows what genre it's in, and imagines that the world is going Wicked Batch Crazy.
[[ Vid this way... ]]
Posted on 05.17.13 by Aaron @ 1:51 am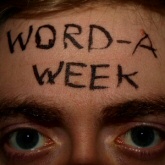 Are you in the dark when it comes to language? There's no shame in that. However, rather than fumble for the proverbial light switch in such a situation, then wind up tripping over the proverbial Lego model of the Parthenon and bust your proverbial ass...instead we suggest to let Aaron Poole pop the glowstick of awareness in the middle of your brain. Yes, you have them in your amygdala. That is SCIENCE FACT. Anyway, that glowstick--that Re-Animator reference waiting to happen--is filled with words. And they will light your way to freedom. Or the bathroom. Whichever you need most at three in the morning. But regardless: Aaron is here! To treat your skull pan like a rave! Accept no substitutes! This word is one you can use! In conversation! When you're trying to find a rhyme for "fibrous"! You can even use it on Twitter and Facebook! And the best part is: this word is free for you to use and share! It is guaranteed DRM-free.
We hope you will join Aaron as works the two turntables of knowledge to remix your ignorance using the Korg Kaoss Pad 3...of Language.
[[ Word this way! ]]
Posted on 05.16.13 by Dom @ 5:28 pm
Written by: Alex Kurtzman, Damon Lindelof & Roberto Orci, based on the series created by Gene Roddenberry
Directed by: J.J. Abrams
Starring: Chris Pine, Zachary Quinto, Benedict Cumberbatch, Zoe Saldana, Karl Urban, Simon Pegg, John Cho, Anton Yelchin, Bruce Greenwood, Peter Weller, Alice Eve
All you know about Into Darkness is just a smoke screen.
Where to begin? How about some rules. A contract if you will, between you, the reader, and me, the reviewer. I ask you to stay away from any and all spoilers. I ask you not to speculate with others about this movie before you see it. In return, I will write a review that will sail around those spoilers and still serve you enough information to make a decision whether or not you want to see it.
With the second Star Trek by J. J. Abrams though, this spoiler-or-no-spoiler problem is key. How so? You have to consider that the marketing campaign--including every interview and every word that Abrams himself has said--are part of the game and the experience. After watching the movie I can summarize the effect the campaign had in one, simple formula: The more you know about the (old) universe of Star Trek and the less (i.e. spoilers) you know about this movie, the bigger the fun will be for you.
Posted on 05.15.13 by Widge @ 2:39 pm
So...many people are complaining that Merida, the heroine from Pixar's Brave, has been given a sparkly makeover that robs her of her awesome hair, her bow and arrow, and her draw (no pun intended) as an animated role model for female children everywhere.
I, on the other hand, ask this: why stop there? I see this as an opportunity for Disney to clean house. Many of their character designs are, like Merida, simply not optimized to move product. Since even Pixar appears to be more focused on making money than they were in the past, we'd like to take this opportunity to offer up merely a smattering of the brilliant marking-enhancing-synergy-snorting ideas we can bring to the table. Our rates are reasonable.