Because some things you simply need to know. Here's the day's news in a quick digest form. Because a slow digest form would be just silly.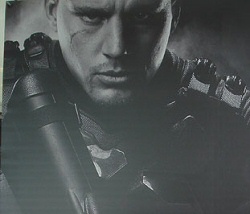 G.I. Joe is now G.I. Joe: Rise of Cobra, and there's a teaser poster starring Duke here. Trouble is…unless the poster said "Duke" and "G.I. Joe: Rise of Cobra," wouldn't this just look like Generic High-Tech Action Movie: Rise of Franchise? Blah, blah, blah, I know that the costumes A) don't always translate well to screen and 2) probably are about as combat-worthy as going into battle wearing a burlap sack, but can't we have something that calls back to the cartoon/toys/comic? Found via io9.
Have you been using iTunes to create weapons of mass destruction or run an iron lung or maintain a nuclear reactor or help airplanes land? Then cut that shit out.
Kung Fu Killer will see David Carradine and Daryl Hannah back on the screen together. Of course, it's the small screen, it's a miniseries, and it's on Spike, but um…beyond that, it sounds great. It hits this August and while Carradine will probably kick ass (if the production team can keep him sober–allegedly), no word on how much asskicking Hannah will provide, as she's playing a lounge singer and not a blonde sadistic cyclops.