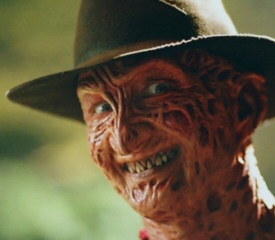 So last year we were talking Friday the 13th…and soon we have a remake of Nightmare on Elm Street, so we should go back to our friend Freddy–the classic version. Here, have the trailer:
Direct link for the feedreaders.
I guess my problem with the idea of a remake is that, apart from probably being more gory, what exactly is it going to bring to the table? I mean…besides Jackie Earle Haley as Freddy, which, admittedly might be fun. But still, I mean: we know Haley can do the role…it was just surprising fun to see Meek Guy From V turn into the ultimate scarred, finger-bladed killer. For me at least.
Anyway, here have a commercial from Italy after the jump while we ponder all of that.