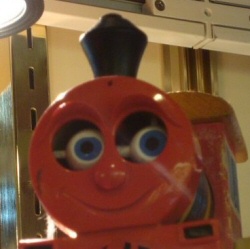 On our recent road trip, we made lots of interesting discoveries. One of my favorites was this gem: Carter's Antique Toy Museum in Zionsville, Indiana.
About seventeen miles from Indianapolis, it's a building with three floors that holds a single collection of toys. But Jebus, what a collection. Entire cases of Lionel train cars, a basement full of coin-operated rides for kids, and even an animatronic tree that will give you nightmares. Also in the basement, two ancient lightgun arcade games and bumper cars–both of which you can utilize with your admission.
It's amazing. It's like a better organized toy version of what I assume the Ackermansion must have been like. I hope to get an interview with the owner soon, as I think he could use some help. Taxes and expenses of running the museum are just eating away at his wallet to the point where he might shut down the museum at the end of the year.
Go check out the photo album of 90+ shots that I've stuck over at our Facebook page and you tell me if you want to see that happen. If you're anywhere near the place, it's worth checking out. It's pretty damn amazing. Here's their official site.