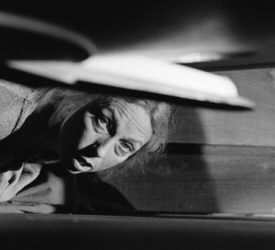 That's right, it's not an actual movie for this event, but Movie Night 3 of 32 Days of Halloween has become a place to enjoy a pair of Twilight Zone episodes. Because it is the freaking Twilight Zone, after all. We're going with a pair of classic ones.
First we have "A Hundred Yards Over the Rim," written by Mr. Serling himself and starring Cliff Robertson. An excellent example of the turn-the-corner-and-WTF-ness that the Zone can bring you.
Then we have "The Invaders," starring Agnes Moorehead (yes, later to be Endora from Bewitched, though you probably wouldn't recognize her here). A unique episode written by Richard Matheson, it's Moorehead pretty much acting alone and with no dialogue. This episode would, as I understand it, inform the Stephen King short story "Battleground." And both this episode and that story would later inform my own short story about invaders.