The Sound Board #28: It Takes a Nation of Three To Hold Us Back
By Widge - posted 03.25.12 @ 7:19 am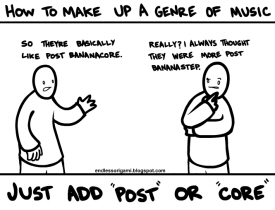 This podcast generally covers music and other transgressions. This month's episode stars Prof. Tuffley and Dr. Rob Levy with Widge driving recklessly as much as possible.
This episode's central topic is...musical genres and our slide towards musical singularity. Also we remember Ronnie Montrose, Whitney Houston and Davy Jones. We discuss problems between Rush and Rush, Paul McCartney and everybody who streams, your obligatory litigation update and we discuss our own musical genre: coffeecore.
Special thanks to Hyperbubble for our lead-in music. Show them love and buy their stuff.

If you have music you want to bring to our attention, ping us at sound board at (this domain).
To find Tuffley's Randomizer and other Spotify playlists, go here. And you can find him on Twitter here.
And to find Rob Levy at KDHX, go here. And his personal blog is here. And his Twitter is here.
BTW, you iTunes subscriber types can nab our overall podcast feed here. If you like us, why not rate us? We don't bite. Mostly. Or if you want to do something else with it, the feed feed is here.
For those just wanting to subscribe to The Sound Board, you can do that here. iTunes feed is here.
To download this episode directly, The Sound Board #28: It Takes a Nation of Three To Hold Us Back, then do that thing. Previous episode can be found here.
Read More About:
Keep Browsing:
« Win Breaking Wind on DVD! | Win an A&E Historical Prize Pack! »
A Mob Numbering 2
»
1.

I have so much to say about this subject, I will be forced to make a youtube video which I will be posting to your collective facebooks. But for now, I'll just say this...

I would argue that this runaway train of genres came about in the late 70s / early 80s with Punk Rock. When the initial Punk Rock movement died, "Hardcore Punk" rose from it's ashes. Probably where 'core' comes from. In 1985, Thrasher Magazine used the term "Emocore", or Emotive Hardcore, to describe what DC bands like Embrace and Rites of Spring were doing. That's right folks, "Emo" was born in 1985 and has been bastardized since. We in the current DIY Punk scene are infuriated with the current trend of unnecessary genre creation

Comment by Joey G — March 26, 2012 @ 4:33 am

2.

Joey: We await your vid with great eagerness. Thanks for the comment, chief.
RSS feed for comments on this post. TrackBack URI
Line and paragraph breaks automatic, e-mail address never displayed, HTML allowed: <a href="" title=""> <abbr title=""> <acronym title=""> <b> <blockquote cite=""> <cite> <code> <del datetime=""> <em> <i> <q cite=""> <strike> <strong>