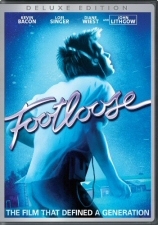 With the remake impending, it's the original Footloose out on DVD in a Deluxe Edition from Paramount. Here's what they have to say for themselves:
Filled with electrifying dancing, memorable music and timeless spirit, the contagious celebration of youth FOOTLOOSE arrives on a new Deluxe Edition DVD, featuring more than 30 minutes of all-new special features, on September 27, 2011 from Paramount Home Entertainment. In this beloved fable about teen exuberance overcoming rigid, misplaced morality,
Kevin Bacon
lights up the screen as city-boy Ren, an outsider who finds himself in an uptight Midwestern town where dancing has been banned. The film's sensational soundtrack spawned two #1 hits: "Let's Hear It For The Boy", and, of course, Kenny Loggins' rocking anthem "Footloose", along with enduring classics such as "Dancing In The Sheets", "Holding Out For A Hero", "I'm Free (Heaven Helps The Man)" and the love theme "Almost Paradise". FOOTLOOSE also stars
John Lithgow
, Dianne Wiest, Sarah Jessica Parker, Lori Singer and Chris Penn.
We've got three copies to give away. Want to win one? Excellent. Here's how that happens: you enter using the form below. Remember you can enter once a day. If we draw your name when the contest ends, you snag it! Good luck!
(more…)