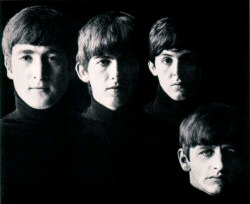 Because some people just want to read a single post with all their pop culture snippets in it, instead of following an entire website about it. Essentially: this is pop culture news for people with lives. Enjoy.
The Beatles' Apple Corps have signed a deal with MTV and Harmonix to bring about some form of Rock Band game that will feature the Beatles' music. This will hit next year and comes with the full blessing of Paul, Ringo, along with Yoko Ono and Olivia Harrison. Giles Martin, who co-produced Love–the Beatles/Cirque du Soleil pairing–is going to be music producer on this. The press release I read doesn't have the official title of the game, although they'd be nuts not to call it Rock Band: The Beatles Edition or something. I will give a dollar to the first team who can do "Revolution 9" on the hardest level and give me photographic evidence of that fact.
Do you like our Stuff? You can subscribe to just this portion of the site and get the Stuff You Need to Know by using this newsfeed. Thanks for stopping by.