Emily and the Really Sexy Vampyre - Audio, Part 1
By Widge - posted 01.16.10 @ 4:05 am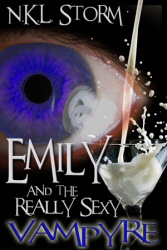 The book--the literary opus--is entitled Emily and the Really Sexy Vampyre. It's a young adult novel about love, death, magic and how youth will always be triumphy over the stupid. It was "...found inside a unicorn-themed Trapper Keeper ™ on a sidewalk in Storm's neighborhood." Storm, you ask? Yes, that's Storm of Paul and Storm. They are the guardians of this piece of fine literature.
Knowing that it was so terribly fine, I asked Storm if I could take a crack at reading it. And he said sure. So here is the first part of me cracking. I apologize in advance for the moments in which it gets a little clippy.
You can find the story thus far here. And for Paul and Storm's homebase (complete with lasers) go here.
Read More About:
Keep Browsing:
« Win Defying Gravity Season 1 on DVD! | Stuff Bulletin: Dollhouse on Sale »
A Mob Numbering 8
»
1.

Okay, THAT. WAS. PHENOMENAL.

Could you please start releasing these as you record them as a podcast? I'd LOVE to have them download automatically to my computer. Otherwise, I'd have to download them manually here, which I'm content to do, thus defeating the entire purpose of my request.

Never mind.

-EditorMikeC

Comment by EditorMikeC — January 16, 2010 @ 11:47 am

2.

EMC: Thanks! I wanted to see what the reaction would be, but now that I've seen a retweet instead of a C&D, I'll probably set up one separate from our regular podcast feed.

Comment by Widge — January 16, 2010 @ 1:57 pm

3.

AWESOME.
I'll definitely jump right on it when it comes out.

(That was me last night at the Paul and Storm and Coulton concert by the way. Nice to meet you!)

-EditorMikeC

Comment by EditorMikeC — January 17, 2010 @ 5:07 pm

4.

Oh crap! Next time tell me who you are! After you remind me who I am! Wait, where am I?

Comment by Widge — January 17, 2010 @ 5:10 pm

5.

Yeah, I thought about that as soon as I walked away. I got over to the other side of the door, and stood there, and thought, damn, I didn't tell him who I was.

I thought about going back, but I didn't want to be THAT GUY who goes "Oh, yeah, one more thing..." because I hate that.

Sorry.

-EditorMikeC

Comment by EditorMikeC — January 17, 2010 @ 7:29 pm

6.

No worries...I just always like to put a name with a face so everybody knows who everybody is. Like in that scene in Dawn of the Dead. The original, of course.

Comment by Widge — January 17, 2010 @ 10:27 pm

7.

And right here, is where I lose any and all respect you might have for me:

I can't stand zombie movies. Creep me right the hell out. And yes, I include "Shaun of the Dead" and "Zombieland" in that. I can't even watch the trailers.

It all stems from a childhood trauma when I was 8 years old. Semi-long story. So, yeah.

-EMC

Comment by EditorMikeC — January 18, 2010 @ 12:21 am

8.

That's okay. I can't stand peas. We all have our limitations.
RSS feed for comments on this post. TrackBack URI
Line and paragraph breaks automatic, e-mail address never displayed, HTML allowed: <a href="" title=""> <abbr title=""> <acronym title=""> <b> <blockquote cite=""> <cite> <code> <del datetime=""> <em> <i> <q cite=""> <strike> <strong>