Posted on 09.04.13 by Widge @ 1:07 pm
Comments on this: none yet.
Add your own.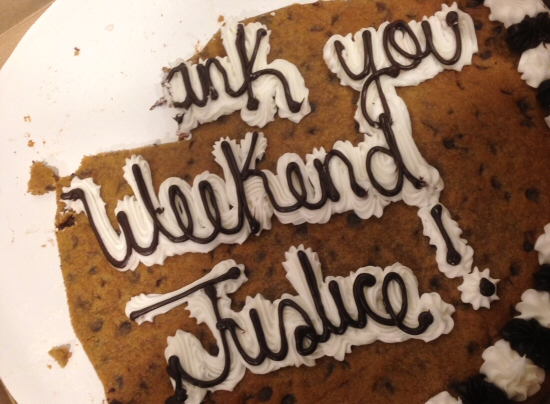 So the madness that was DragonCon 2013 has come and gone. And as we wake up in our respective car trunks, oversized pieces of luggage and coffins--we struggle to remember the extended convention weekend that was.
Luckily, we have photos. And videos. And audio. And those will be happening as we can slam them into a somewhat respectable (for us) form. In addition to multiple panels where we got to see many, many of you, we did our experimental Weekend Justice #200 live recording and everyone had a chaotic good time. We also recorded another live Solve This, which will be hitting a lot sooner than the last one. And we had our annual Need Coffee Group Therapy session.
Some highlights, though. We have had it underscored just how incredibly sexy you, our fans, are. That picture up there is of the giant cookie that greeted me when I arrived on the scene at Make the Bad Men Part I. Yes, I know: I should have taken the picture before we began mauling it. But I've been on a diet for a while and...well, you know, giant cookies aren't something you purchase for yourself regardless, right? It was amazing. And I ate way too much of it. Took me back to high school age birthdays, so it did.
Categorized as: Stimuli
Comments: None
Posted on 08.05.13 by Rob Levy @ 3:23 am
Comments on this: none yet.
Add your own.
With the 50th Anniversary of Doctor Who approaching in November, Need Coffee Dot Com celebrates the legacy of the show by examining all Eleven Doctors. Every Doctor will be profiled as part of the series.
At the end of each overview is a recommended list of commercially available DVD titles from that particular Doctor. For the sake of simplicity only complete stories will be considered.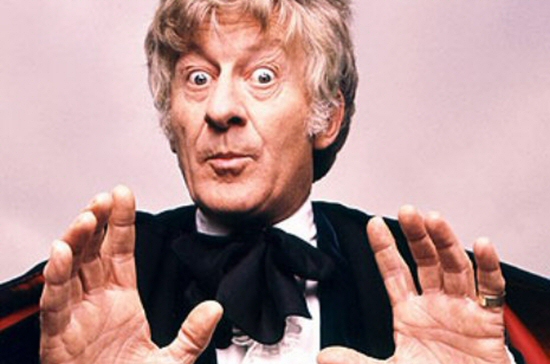 JON PERTWEE
Jon Pertwee was nicknamed "The Tall Light Bulb" by Tom Baker. In a weird way it is perfect since as a performer everything about the actor who played the Third Doctor was bright and beaming. Pertwee, a veteran actor and comedian who dabbled equally in radio, theatre, film and television, who never entered a room quietly--was larger then life. The legend of Pertwee only grew larger when it was revealed that he was involved in high-level espionage in World War II.
He was born into a famous family. His father Roland was a well-known writer and artist. His mother, Avice, whom Jon would later grow estranged from, was also a performer.
Categorized as: Stimuli
Comments: None
Posted on 07.12.13 by Widge @ 1:25 pm
Comments on this: none yet.
Add your own.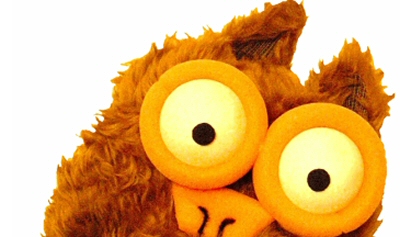 Charlie Brooker, who we've brought to your attention before--especially and most importantly for people on this side of the pond who probably aren't aware of him, has given us great joy in the form of his -Wipe series of shows. However, he brought his keen sense of gloom and sarcasm to a panel show, You Have Been Watching, which aired on Channel 4 in the UK for two series in 2009 and 2010. Alas, no more have been created.
During the show, Charlie and three panelists would discuss (and ultimately quiz about) various shows. The episode we're drawing from is the Kids TV Special, where they had just finished going over the slightly psychotic and definitely unnerving 70s show Pipkins. (I highly recommend seeking out that segment of the show. It's mental.) Having seen how that show dealt with telling kids about death, Charlie decided to put his panelists to the test...
[[ Vid this way... ]]
Categorized as: Stimuli
Comments: None
Posted on 05.31.13 by Widge @ 11:10 am
Comments on this: just one.
Add your own.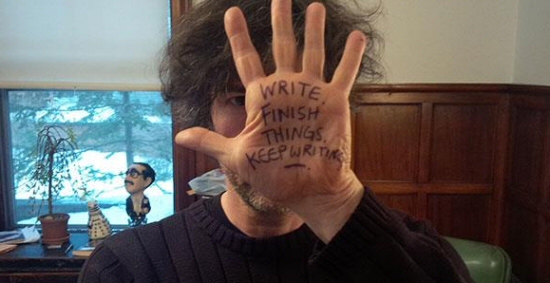 As previously stated, Neil Gaiman is making his Farewell Tour. Perhaps one day he might decide to reform and make another round...but at the moment, this is it. We've teamed up with Eagle Eye Bookshop in Decatur, Georgia to host The Neil for his stop in the Atlanta metro area. Tickets for the event went rather fast.
However.
Categorized as: Stimuli
Comments: 1 Comment
Posted on 05.27.13 by Wolven @ 10:25 am
Comments on this: none yet.
Add your own.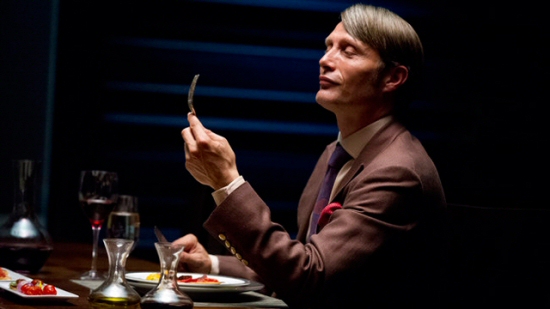 Preface: I'll warn you: This one requires a bit of ancillary reading on your part. Not books or anything (though they are always good things to read), but blog posts and articles. I hope you're all right with that...because it'll be worth it.
I am a huge fan of the world and mythos of Hannibal Lecter, and so I'm a bit ashamed of myself that I didn't know, until the week of airing, that NBC was creating a new ongoing series called Hannibal, based on the events directly preceding Thomas Harris' novel Red Dragon. But, upon hearing of what should have been a wondrous occurrence, I was what I'll call "Aggressively Meh" about the whole thing.
Categorized as: Stimuli
Comments: None
Posted on 05.27.13 by Widge @ 7:42 am
Comments on this: none yet.
Add your own.
Showing that he knows how to maximize good interview time, Jon Stewart wastes no time in discussing Morgan Freeman's soon-to-hit Now You See Me and goes straight to discussing science. The conversation covers not only Stephen Hawking's party skills but also how you can use balloons to explain damn near anything in physics.
I have not caught Freeman's show, Through the Wormhole, but all I can say is that if you paired these two on some sort of science road trip documentary series, I would watch the living hell out of it. It's after the jump.
Categorized as: Stimuli
Comments: None
Posted on 05.22.13 by Widge @ 11:56 pm
Comments on this: none yet.
Add your own.
Over the course of the action-explodo-thon of Star Trek Into Darkness, there is a shot of Alice Eve in her underwear. I didn't mind it, partly because it was a brief blip in a film that I was enjoying the momentum of, and partly because I own a penis. But apparently, there has been some kerfuffle about this--and in J.J. Abrams' appearance on Conan (shown after the jump), he explains what his thought process was. And, you know, penis or not (though for the record: there is one), I can see where he could have been going for that and it was a beat that just didn't quite work in that way.
But yeah, he would have saved himself a ton of trouble if he had just left the shower scene in. All will be explained:
[[ More this way... ]]
Categorized as: Stimuli
Comments: None
Posted on 05.15.13 by Widge @ 2:39 pm
Comments on this: none yet.
Add your own.
So...many people are complaining that Merida, the heroine from Pixar's Brave, has been given a sparkly makeover that robs her of her awesome hair, her bow and arrow, and her draw (no pun intended) as an animated role model for female children everywhere.
I, on the other hand, ask this: why stop there? I see this as an opportunity for Disney to clean house. Many of their character designs are, like Merida, simply not optimized to move product. Since even Pixar appears to be more focused on making money than they were in the past, we'd like to take this opportunity to offer up merely a smattering of the brilliant marking-enhancing-synergy-snorting ideas we can bring to the table. Our rates are reasonable.
Categorized as: Stimuli
Comments: None
Posted on 05.14.13 by Widge @ 6:48 am
Comments on this: none yet.
Add your own.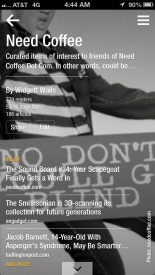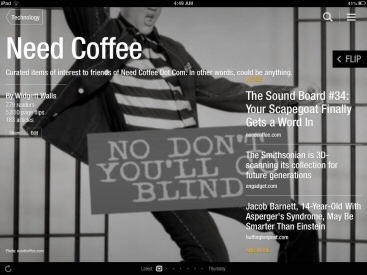 So there I was, staring down the barrel of Google killing their perfectly good (IMO anyway) Reader. Alternatives? There are many. A lot that are way too fancy for me--sometimes you just want a boring damn list of stuff, right?
But then I ran across Flipboard. There is something oddly satisfying about the notion flipping through feeds like they were a magazine. I find this to be especially so on the iPad version of the app, since you are flipping from left to right and, you know, it's a decent-sized screen for reading things. Especially when you are no-sighted (the ultimate combo of near- and farsighted) like me. It was nifty, sure.
Categorized as: Stimuli
Comments: None
Posted on 05.07.13 by Widge @ 12:46 pm
Comments on this: 4 so far.
Add your own.
Don't want to use nasty pesticides in your garden? But also, don't want to have pests eating your garden before you get a chance to? Like most things in life, caffeine is here to save your ass.
Lifehacker clues us in: insects are like dogs apparently, in that they're not supposed to have caffeine.
While humans tend to enjoy the burst of energy that comes from caffeine, insects, particularly aphids, do not. Gather any or all of the following herbs: yarrow, tansy, pennyroyal, thyme, lavender, rue, catnip and artemisia. Mix at least a cup of this herbal mixture with 2 tablespoons used coffee grounds and 2 cups of water. Allow this to marinate for at least 24 hours before straining and placing into a spray bottle. This can keep for several weeks.
So this means that on those occasions where I've come back to my desk to find a dead bug floating in my coffee...they've simply had it with life and wanted to end it? Or is getting a bit of awesome brew worth the cost of their lives? Either way, it's slightly morbid and weird. Again, like most things in life.
Categorized as: Stimuli
Comments: 4 Comments