Posted on 01.06.12 by Widge @ 12:25 pm
Comments on this: none yet.
Add your own.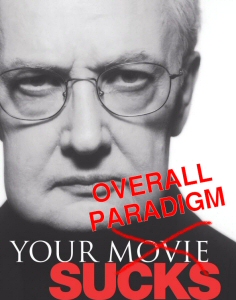 In general, you can agree with Roger Ebert or not, but when the man speaks he must at least be heard out. And to my delight, on the topic of declining cinema revenues, he's come out swinging in regards to many of the same things that I've been bitching about for a while. The full article is here and it's not long--it's worth reading.
I just want to expand on some things. He begins by pointing out "the absence of a must-see mass-market movie." That's because, seemingly, unless the marketing plan comes in on a silver platter and monogrammed, already setup...Hollywood seems to be clueless as to how to proceed. Oh yes, there are exceptions: rolling Ghost Protocol out to IMAX cinemas a week early to get the ball and buzz rolling was a choice move. But there are more missteps than victories: why is Hugo, one of the best reviewed films of the year and the best live action 3D film of the year...sitting at only $62M worldwide box office? I would argue it's because if you watch the trailer, it doesn't set you up for what the film actually is. And while I always love to be surprised by a film (Rise of the Planet of the Apes is more about freedom than Let's Kick Some Homo Sapien Ass and Road to Perdition is more family drama than crime drama), it always helps if the audience is given a freaking reason to show up.
Categorized as: Stimuli
Comments: None
Posted on 01.05.12 by Jon @ 7:47 am
Comments on this: just one.
Add your own.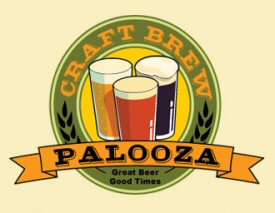 Dispatched by Leigh, Need Coffee Dot Com Minister of Fine Spirits, two intrepid geeks from The Unique Geek, Jon and Duncan, made their way to the Craft Beer-a-Palooza last month in Tampa. This is their increasingly drunken story.
Some highlights to look for: Duncan gives you a number of pro-tips: about why you should maybe choose cider, about popular beers vs. good beers, and party etiquette. He also engages in mortal combat with a particular beer. And some curbs. Jon also would like to point out something to remember whenever you're planning an event like this. Then it all goes to a dark place. On a roof.
[[ Vid this way... ]]
Categorized as: Stimuli and Video Podcasts
Comments: 1 Comment
Posted on 12.28.11 by Widge @ 7:20 am
Comments on this: 3 so far.
Add your own.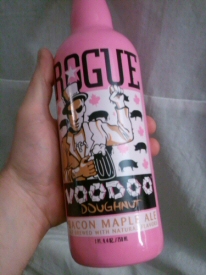 Portland, Oregon brings you Voodoo Doughnut. A place that I became acquainted with/addicted to here.
Also based out of Oregon, Rogue makes a number of very capable beers, including one of my favorite "just feel like drinking a beer" beers, Dead Guy Ale. (Admittedly, I'm drawn to that partly because I always though that was a great name for a beer while I was unable to drink and always sort of wanted to try it for, you know, a decade or so.)
Anyway, these two giants of digestible goodness decided to come together and create a beer called the Rogue Voodoo Doughnut Bacon Maple Ale. Once I heard about this, I knew I must try it. So I did. Can two things I enjoy separately come together to be enjoyed together? Is this just beer for people who are too lazy to actually drink and eat something and want to get it out of the way in one fell swoop? The results were recorded in the name of Science!
[[ Vid this way... ]]
Categorized as: Stimuli and Video Podcasts
Comments: 3 Comments
Posted on 12.26.11 by Widge @ 4:16 am
Comments on this: none yet.
Add your own.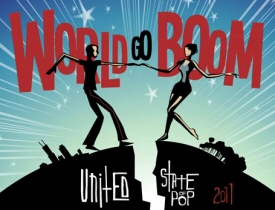 In what has become an annual tradition (that winds up making me familiar with a lot of songs I couldn't normally be arsed to listen to during the year without someone like Earworm to make them somehow more enjoyable in mashup form), DJ Earworm strikes once more with the latest in his United State of Pop series.
What the hell is it? He takes the Top 25 hits in the U.S. during the year--then mashes them all into a single song. And unlike just laying down beats and words indiscriminately, he somehow manages to make the thing coherent. No idea how he does it. It makes my eyelashes hurt just thinking about how you process that. But it's here, nonetheless.
For more info and the complete list of tracks he used, go here. For more of his work, check out his official site.
[[ Vid this way... ]]
Categorized as: Stimuli
Comments: None
Posted on 12.21.11 by Wolven @ 6:26 am
Comments on this: 7 so far.
Add your own.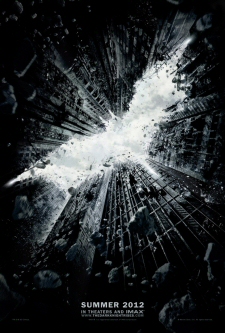 So, in case you hadn't heard, the full trailer for The Dark Knight Rises went live, and it is oh so very much yes. But, in addition to just showing you this brand new hotness and asking you "Christopher Nolan: Great Director? Or GREATEST Director?" I want to take a moment of your time to engage in some wild and nearly baseless speculation.
Now, some of you may not know it but, within the past three years or so, there's been a thing in comics called "Batman, Inc." The gist is this: Bruce Wayne has finally realised the extent of what he can do with all of his money and resources, and has started sending himself and other members of the Batman Family out into the world to recruit local candidates to be Batman in that city/part of the world.
Each new recruit has their own codename, but they all wear an easily recognisable version of the Symbol of the Bat. This says, "You know who Batman is. Look at me. I'm Batman. I have all of the Batman's resources and the full weight of his network of support." This is really just the logical extension of what had already been happening in an organic way with the rest of the Batman Family.
Categorized as: Stimuli
Comments: 7 Comments
Posted on 12.15.11 by Widge @ 9:29 pm
Comments on this: 6 so far.
Add your own.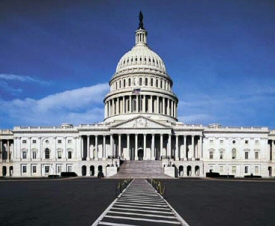 So. SOPA is happening (Wikipedia, which is always right, definition here; latest madness about it here). I will be amazed if it doesn't get passed. And before I tell you what my reaction is, I would urge you to read my rationale behind it before you get pissed off and leave. But the beauty of it is, you are free to do so. But honestly, stick around. What I have to say might interest you.
My reaction is: fine. Do it.
Still with me? Good. Here's why I say that.
The only line I remember from Gene Wilder's show Something Wilder was this: "The problem with bad taste is that you can't explain it to someone who has it." And the problem with dealing with unreasonable people is that reasonable people--and I would include both you and I in that--have trouble fathoming where the unreasonable person is coming from. Because we have a distinct disconnect between reasonable and unreasonable. And we, being reasonable, don't understand that some people simply cannot be reasoned with.
But here's the truth. Some people simply cannot be reasoned with. The best way I have found to get unreasonable people to realize you're right is to simply give them what they want. Even if--and especially if--you, being reasonable, know that what they think they want isn't, ultimately, what they want.
Are you following me here? Let me give you an example from my own life. Stay with me. I promise, I'm saying all this for a reason.
Categorized as: Stimuli
Comments: 6 Comments
Posted on 12.15.11 by Wolven @ 2:46 pm
Comments on this: none yet.
Add your own.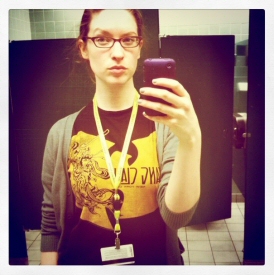 Recently, photographer, writer, all around interesting person, and friend of the show, Ms. Katie West wrote an article on the impact of The Matrix on the culture and minds of a certain generation: "I CAN ONLY SHOW YOU THE DOOR, YOU'RE THE ONE THAT HAS TO WALK THROUGH IT."
In this essay, Ms. West laments the lack of inspirational future narratives to be found in our culture these days, saying that, when we see the re-imagining of old promises in film, TV, and so on, we're seeing a set of promises the like of which we haven't seen since:
Unlike all those people in 1969 who have memories of where they were when Neil Armstrong said those famous words, I have no memory of where I was when the first person walked on Mars, or where I was when we achieved warp speed, because it never happened. I only remember where I was when terrible things happened. I know exactly where I was when planes crashed into buildings (in the darkroom at my high school developing pictures), or where I was when a tsunami almost wiped out an entire country I loved (in a bar in Los Angeles meeting people from the internet).
And the thing is, she's right.
Categorized as: Stimuli
Comments: None
Posted on 12.09.11 by Leigh @ 6:30 pm
Comments on this: just one.
Add your own.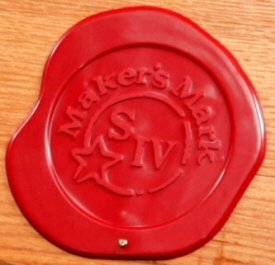 For our latest adventure into the land of mixological mayhem, we go to Leigh, Minister of Fine Spirits, showing you what she does best. She is joined by Big Dub (aka Big Bry), giving her moral support. And drinking support. Because both are necessary. The task: how to make a perfect sweet Manhattan, which Leigh dubs (Big Dubs perhaps) "The Big Bry Manhattan." Along the way, something is learned about bar gear, a glimpse of Leigh's massive booze stash is glimpsed, and scurvy is thwarted once more. Not bad for a video that runs under five minutes.
[[ Vid this way... ]]
Categorized as: Stimuli and Video Podcasts
Comments: 1 Comment
Posted on 12.08.11 by Widge @ 10:38 pm
Comments on this: none yet.
Add your own.
After seeing Tim Ferriss' video of a sneak peek at some Four Hour Chef mayhem/Four Hour Body cheat day treat-ness, I decided to give it a go. Why? Because it was tequila hot chocolate that utilizes cigar smoke-infused milk foam. Which sounds just weird enough to be a must-try. It also hails from The Aviary out of Chicago, which looks like a ridiculously awesome establishment that I will one day be wheeled out of.
The following video documents my attempt at this recipe. This is to be used for entertainment purposes only. If you try to follow my lead, then know we are not responsible for any injuries sustained, nor any smoke damage to your house. You have been warned.
For Tim's Four Hour Body book, you can find it on Amazon here. And you can pre-order Four Hour Chef here.
[[ Vid this way... ]]
Categorized as: Stimuli and Video Podcasts
Comments: None
Posted on 11.24.11 by Widge @ 1:28 am
Comments on this: 3 so far.
Add your own.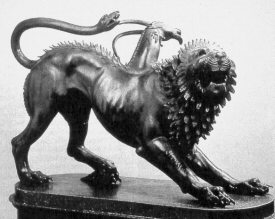 So Turkey Day is upon us. For our many non-American readers, we always defer to Jim Gaffigan to explain what our holidays are really all about.
But yes, the holiday is about being thankful. But the truth is: it's mostly about eating. And dealing with family, for good or ill. Mix thinking about eating with geekery and what do you get? Eventually you start thinking about meat that you'll never be able to get a hold of. That's right, fictional creatures. Assuming they existed and we could have them with a side of fries, what creatures would I definitely want to sample? Good question.
Here's nine I came up with, in alphabetical order.
Chimeras. Not the genetic chimera, but the standard mythological beast. Your first question might be: so it's a three-way beast--lion, goat and snake--so what? So if you're too lazy to fix up a turducken, here's a carnivorous trifecta already made to order. Done and done!
Categorized as: Stimuli
Comments: 3 Comments