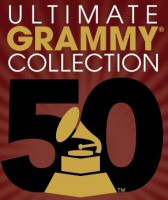 So the 50th celebration of the Grammy Awards is here and Shout Factory along with Grammy Recordings has released a seven CD set of Grammy-winning songs. Each CD covers a specific genre: Contemporary R&B, Contemporary Pop, Contemporary Rock, Contemporary Country, Classic Country, Classic R&B and Classic Pop.
The next round of Grammy Awards will be awarded February 10th. To celebrate the CD release and the award ceremony, you have a chance to win. What do you win? Your pick of one of the seven CDs. That's right. If you can't stand contemporary country, for example, we're not going to try and foist it on you. Because we're just considerate like that.
After the break we'll have the track listings to help you decide. And, you know, an entry form. Because that's handy too.
Actually, the track listings are below the entry form this time, so if you're coming back here to enter again and have already perused them, you're not stuck looking at them over and over. You're welcome.
Contest is closed! Thanks for playing.
But don't despair! For the latest in contestage, check out the site here.
Or if you want to never miss another contest, subscribe to our RSS feed!
Buy Stuff
Ultimate GRAMMY® Collection: Contemporary R&B
1. Anita Baker "Giving You The Best That I Got" (Single Version)
2. Terence Trent D'Arby "Wishing Well"
3. Soul II Soul Featuring Caron Wheeler "Back To Life (However Do You Want Me)"
4. Luther Vandross "Here And Now"
5. Ray Charles "A Song For You"
6. Sade "No Ordinary Love"
7. Toni Braxton "Breathe Again"
8. Boyz II Men "I'll Make Love To You"
9. Blackstreet Featuring Dr. Dre "No Diggity"
10. R. Kelly "I Believe I Can Fly"
11. Brandy & Monica "The Boy Is Mine"
12. TLC "No Scrubs"
13. Whitney Houston "It's Not Right But It's Okay"
14. D'Angelo "Untitled (How Does It Feel)"
15. Usher "U Remind Me"
16. Beyoncé Featuring Jay-Z "Crazy In Love"

Ultimate GRAMMY® Collection: Contemporary Pop
1. k.d. lang "Constant Craving"
2. Seal "Kiss From A Rose"
3. Annie Lennox "No More I Love You's"
4. Eric Clapton "Change The World"
5. Shawn Colvin "Sunny Came Home"
6. Sarah McLachlan "Building A Mystery"
7. Jamiroquai "Virtual Insanity"
8. The Brian Setzer Orchestra "Jump Jive An' Wail"
9. Madonna "Ray Of Light"
10. Macy Gray "I Try"
11. Nelly Furtado "I'm Like A Bird"
12. Norah Jones "Don't Know Why"
13. Justin Timberlake "Cry Me A River"
14. Los Lonely Boys "Heaven"
15. Kelly Clarkson "Since U Been Gone"
16. John Mayer "Gravity"

Ultimate GRAMMY® Collection: Classic R&B
1. Aretha Franklin "Respect"
2. Sam & Dave "Soul Man"
3. Otis Redding "(Sittin' On) The Dock Of The Bay"
4. The Isley Brothers "It's Your Thing"
5. Ike & Tina Turner "Proud Mary"
6. Bill Withers "Ain't No Sunshine"
7. Billy Paul "Me And Mrs. Jones"
8. The Temptations "Papa Was A Rollin' Stone" (Single Version)
9. Gladys Knight & The Pips "Midnight Train To Georgia"
10. Natalie Cole "This Will Be (An Everlasting Love)"
11. The Emotions "Best Of My Love"
12. Donna Summer "Last Dance"
13. Earth, Wind & Fire "After The Love Has Gone"
14. Marvin Gaye "Sexual Healing"
15. Rufus and Chaka Khan "Ain't Nobody"
16. Commodores "Nightshift" (Album Version)

Ultimate GRAMMY® Collection: Classic Pop
1. Petula Clark "Downtown"
2. The Mamas & The Papas "Monday, Monday"
3. José Feliciano "Light My Fire"
4. Harry Nilsson "Everybody's Talkin'"
5. The 5th Dimension "Aquarius/Let The Sunshine In (The Flesh Failures)"
6. Dionne Warwick "I'll Never Fall In Love Again"
7. Captain & Tennille "Love Will Keep Us Together"
8. Janis Ian "At Seventeen"
9. Bee Gees "How Deep Is Your Love"
10. The Doobie Brothers "What A Fool Believes"
11. Kenny Loggins "This Is It"
12. Toto "Rosanna"
13. Tina Turner "What's Love Got To Do With It"
14. Phil Collins "Against All Odds (Take A Look At Me Now)"
15. Steve Winwood "Higher Love"
16. Bill Medley & Jennifer Warnes "(I've Had) The Time Of My Life"

Ultimate GRAMMY® Collection: Contemporary Rock
1. Living Colour "Cult Of Personality"
2. Melissa Etheridge "Ain't It Heavy"
3. Soul Asylum "Runaway Train"
4. Stone Temple Pilots "Plush"
5. Soundgarden "Black Hole Sun"
6. Blues Traveler "Run-Around" (Album version)
7. Tracy Chapman "Give Me One Reason"
8. The Smashing Pumpkins "Bullet With Butterfly Wings"
9. The Chemical Brothers "Block Rockin' Beats"
10. Fiona Apple "Criminal"
11. Lenny Kravitz "Fly Away"
12. Coldplay "In My Place"
13. Dave Matthews "Gravedigger"
14. The White Stripes "Seven Nation Army"
15. Evanescence "Bring Me To Life"
16. Green Day "Boulevard Of Broken Dreams"

Ultimate GRAMMY® Collection: Classic Country
1. Roger Miller "King Of The Road"
2. Jeannie C. Riley "Harper Valley P.T.A."
3. Tammy Wynette "Stand By Your Man"
4. Johnny Cash "A Boy Named Sue"
5. Lynn Anderson "Rose Garden"
6. Ray Price "For The Good Times"
7. Johnny Cash & June Carter "If I Were A Carpenter"
8. Jerry Reed "When You're Hot, You're Hot"
9. Donna Fargo "Happiest Girl In The Whole U.S.A."
10. Crystal Gayle "Don't It Make My Brown Eyes Blue"
11. Waylon Jennings & Willie Nelson "Mamas Don't Let Your Babies Grow Up To Be Cowboys"
12. Kenny Rogers "The Gambler"
13. The Charlie Daniels Band "The Devil Went Down To Georgia"
14. George Jones "He Stopped Loving Her Today"
15. Dolly Parton "9 To 5"
16. Willie Nelson "Always On My Mind"

Ultimate GRAMMY® Collection: Contemporary Country
1. Vince Gill "When I Call Your Name"
2. Mary Chapin Carpenter "Down At The Twist And Shout"
3. The Judds "Love Can Build A Bridge"
4. Brooks & Dunn "Hard Workin' Man"
5. Dwight Yoakam "Ain't That Lonely Yet"
6. Asleep At The Wheel and Lyle Lovett "Blues For Dixie"
7. The Mavericks "Here Comes The Rain"
8. LeAnn Rimes "Blue"
9. Alison Krauss and Union Station "Looking In The Eyes Of Love"
10. Trisha Yearwood "How Do I Live"
11. George Jones "Choices"
12. June Carter Cash "Keep On The Sunny Side"
13. Tim McGraw "Live Like You Were Dying"
14. Gretchen Wilson "Redneck Woman"
15. Emmylou Harris "The Connection"
16. Carrie Underwood "Jesus, Take The Wheel"