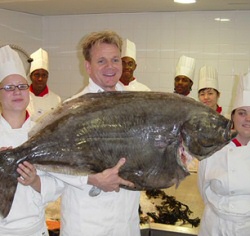 Oni Press apparently has some stuff in the works as films. Whiteout is headed to cinemas in 2009, directed by Dominic Sena (who helmed the wish-they-had-left-the-script-alone Swordfish in 2001) and starring Kate Beckinsale. Scott Pilgrim starts up this year with Edgar Wright in the driver's seat. Their books Leading Man and Resurrection are at Universal. And lastly, The Last Call has been snagged also by Uni, about two teenagers who get hit by a Souuuuul Trainnnnnnn. Well, the article says "interdimensional soul carrier," but our idea is better.
In Australia, the government has their shit so wired that they can actually time to fret over the amount of times Gordon Ramsay says his favorite curse word. We're guessing it's "Fuck." But regardless, Australia must be heaven on earth if they have time to fret over something that trivial. To be fair, though, the committee that was hearing this rubbish did recommend no action be taken. So partial credit. Image.
Ridley Scott has stated that the comic strip Little Orphan Annie inspired Blade Runner. Which is not surprising. On the Gladiator commentary, he admitted that Blondie was the foundation for that film.