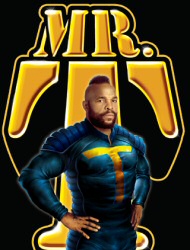 Your Amazon sale for the day is the complete series of Stargate: SG-1–for $99.99. Which is 70% off the list price of $329.99, so that's impressive. You can snag yours here–but be wary–it's as stocks last and only good today. So don't miss out.
The Mr. T graphic novel, which we've been jazzed about before, is now available in a new international edition (plus a downloadable version as well) from the guys at Mohawk Media. Mr. T as a comic book hero cannot be denied. And they are selling a necktie with Mr. T's face on it. Is there anything about that that is not in a rocking capacity? No. Also, I'd like to point out one of the best pull quotes I've ever seen, from John Layman on the back of this Mr. T book: "This graphic novel would take a bullet for you, if it could!" Do I really need to say any more? Get thee to a Mr. T-ery.
Stephen Norrington is on board to helm a re-working of The Crow. I'm sort of amazed at this, because you'd figure that would be stuck in direct-to-video sequel hell for all of eternity. Source: Variety.
Speaking of Stargate, Stargate Universe has a lead actor: the woefully underutilized Robert Carlyle. He will play "Dr. David Rush, the leader of a group of soldiers, scientists, and civilians who have been stranded on an ancient ship in the far reaches of space." The new series kicks off with a two-hour movie event next July on the Sci-Fi Channel. Source: EW.
Terminator 5, which we've previously given the working title of Terminator: Wicked Prayer, is not really news since the producers have previously said they want to do three movies for a total of six in the franchise, is in active development with helmer McG on board for a 2011 release. Bale is signed for all three upcoming films. Source: Variety.