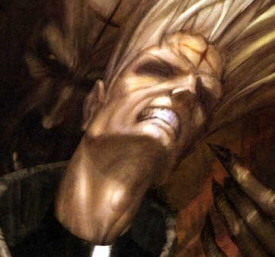 Our ongoing attempt to avoid the long lines at most pop culture websites. Enjoy.
The TokyoPop comic Priest is coming out from Screen Gems. It's about a "world ravaged by centuries of war between man and vampire and follows a warrior priest who turns against the church to track down a murderous band of vampires who have kidnapped his niece." Post-apocalyptic man against vampire? I like stories like that. In fact, I have one. Anybody wants to be the Dante's Peak to Priest's Volcano, call me. Rates are reasonable. Source: Hollywood Reporter.
Okay, so…Outlander. Vikings vs. Aliens. I showed this to Siege and it made him start running around the room brandishing a war hammer. Which is Siege-speak for "That looks delightful and of excellent quality. When can we expect it in cinemas?" According to io9, it's January 23rd.


Harrison Ford is on board for Morning Glory, a comedy about a morning talk show. Rachel McAdams is in talks to come on board as well. This should be interesting, since Ford has been trying to break out and do something besides his box office destroying action/thriller roles but has so far not been a break out hit. In fact, his best performing comedy was Working Girl back in 1988, not counting Crystal Skull. Source: Hollywood Reporter.
Director Gore Verbinski (Pirates of the Caribbean) is going to make a film out of an article from the Wall Street Journal "about the online fantasy role-playing world and its detrimental impact on the real lives of players." Steven Knight (Dirty Pretty Things) is scribing. Now, granted, the article is focused on "a married man who spends as many as 20 hours a day on a computer, existing through an avatar who is a thriving, musclebound entrepreneur. In reality, he is a diabetic, chain-smoking 53-year-old." But even so, I can't help but think…

Direct link for the feedreaders.

…that they're remaking Mazes and Monsters for the 21st Century. Am I alone in being unable to unthink this? Source: Variety.
Do you like our Stuff? You can subscribe to just this portion of the site and get the Stuff You Need to Know by using this newsfeed. Thanks for stopping by.