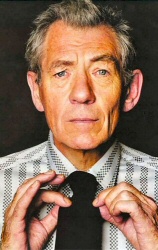 We're back with all the pop culture news you need in bite-sized chunks so you can, you know, get on with having a life or something.
So Ian McKellen, who will soon be gracing the small screen in the remake of The Prisoner, is headed for television again. He is on board a mockumentary series called The Academy. Now here's the bit that shows it's too brilliant and cannot possibly ever hit the airwaves. Or, erm, cablewaves. Whatever the hell they're called these days. The bit: "McKellen would play his fictional brother, Murray McKellen, who heads a run-down drama school, the Clapham Academy of Creative Arts, that is hoping to secure new funding through a docu on the school." See what I mean? It's just too good. Oh, and the other reason it might not happen is that Hobbit starts in March and if they don't shoot it quick, they'll miss Sir Ian's window of opportunity. Oh, and "Murray" is indeed Sir Ian's middle name. Nice. Source.
Uncle Warren's Black Summer has been optioned for a feature film, so the man himself has told us. Should be interesting in that the comic book's plot was about a hero deciding that the President of the United States was a criminal and, because he was created to deal with criminals, um, dealt with the guy. Decisively, shall we say. This is Vigilante Entertainment's first joint and they've brought on Knowing co-scribe Ryne Pearson to adapt it. The collected series is available from Amazon here.